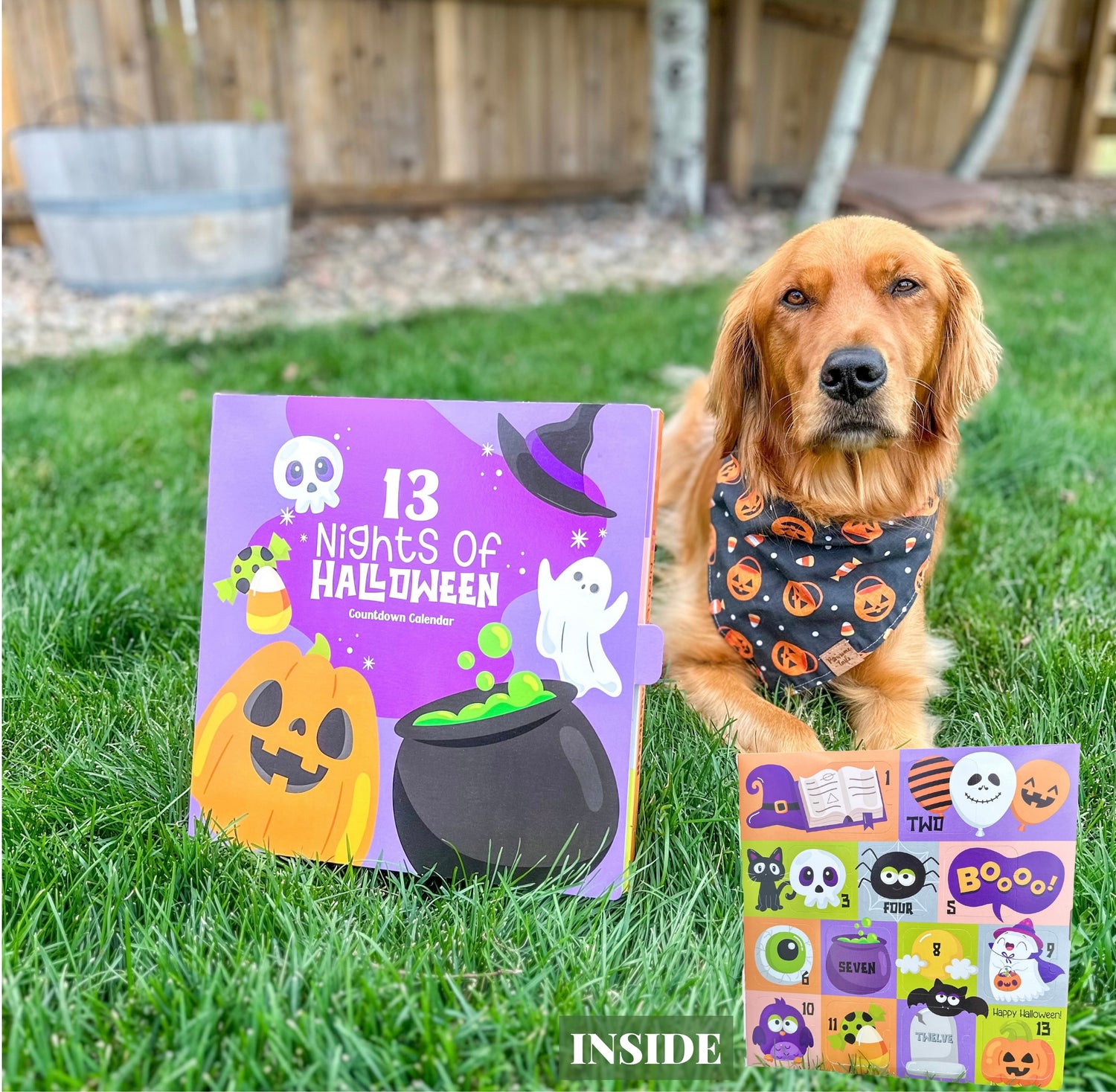 COUNTDOWN TO HALLOWEEN
This 13 day countdown to Halloween is a must have! Whats better than having a treat or two each day before Halloween! Did I mention they are all fully iced and NO DUPLICATES.
Reserve yours
With Sensitive Tummies In Mind
Unleash The Crunch started because I grew up with dogs that would get sick from almost anything. I avoid most allergens! You will find NO chicken, beef, turkey or any other meats in my treats.
Let customers speak for us
Life Savers ♥️
I am so glad we have found out about these calming treats. Shire is a nervous fella. Especially when it comes to anything new. We had a trip planned, and I knew we had to get him a bag before we left. They help to knock the edge off. Morgan is amazing, I sent her a message about when we needed them by, and she made it happen! If you have a nervous nellie like us, you need to try these out. She offers a sample pack with 6 treats. They really work wonders for Shire.
Calming Treats
So cute and perfect!
Love this mix because you can have the cute frosted treats and also the simple crunchy ones! Sometimes I feel like I need to save the frosted cookies and a big reward so have this mix means my puppy gets to enjoy them even more!!!
Pumpkin Mix
Ghost Mix
Ace loves the ghost mix! Perfect for small training victories and too cute not to buy!
Ghost Mix
Obsessed!
These Happy Pumpkin treats are just too cute! Definitely one of my favorites! Plus Wren loved it too!
Happy Pumpkin
The Perfect Donut
Wren absolutely loved these treats! We got them in white and they are so adorable plus they are a great size too!
Donuts
Subscription Box (Monthly)
A big hit!
These treats were so cute and a big hit with my pup. I love that you could customize the colors.
Groovy Variety Box
Love my UTC swag
I ordered one of the market bags and love it! Anytime I can show my love for my fur babies I take it. Also I ordered some original PB biscuits and the CBD ones too. Needless to say my dogs love their treats. The CBD ones really helped my dog with some anxiety. So thankful I tried these! Very pleased with my purchase!
Market Bag
Birthday Box!
morgan never disappoints! she always does an outstanding job! this is why we order from her on special occasions like birthdays!
Custom Birthday Box
Celebrate with Unleash the Crunch!
Archie was about to hit 1k followers on Instagram and we wanted to get him a special treat to celebrate! We had seen a few of his pup friends rave about Unleash the Crunch so we decided to place an order. The treats were so beautifully decorated and packaged, we had no breaks, and Archie went crazy for them! I have never seen him jump around in excitement so much for a new treat! We will be placing more orders in the future! :)
The Milestone
Scrumptious!
This isn't the first time I've ordered the Peanut Butter Crunch treats for my pups! They absolutely love them and always look for more! Yum!!!
Peanut Butter Crunch
So groovy and delicious
My dogs love these cookies. The quality and goodness are the best. Will be ordering again, soon!!
Groovy Variety Box
Amazing & yummy
My dogs LOVE all treats from UTC, but these peanut butter ones are their favorites. My pup has some severe allergies, so knowing what is in the treats is important.
Peanut Butter Crunch
Cutest treatos ever
These adorable dog biscuits are definitely on the top of the list for Breckin and me! He knows he's getting his fave when he sees me heading for the treat jar!
Pastel Paws
My pups LOVED these!!!
This was my first order from Unleash the Crunch and my pups were not disappointed! One whiff of these treats and they jumped up and down with excitement! They devoured them and I loved hearing the crunch as they enjoyed every bite. I also order the peanut butter bones and they loved those well. Thank you!
Bone-fetti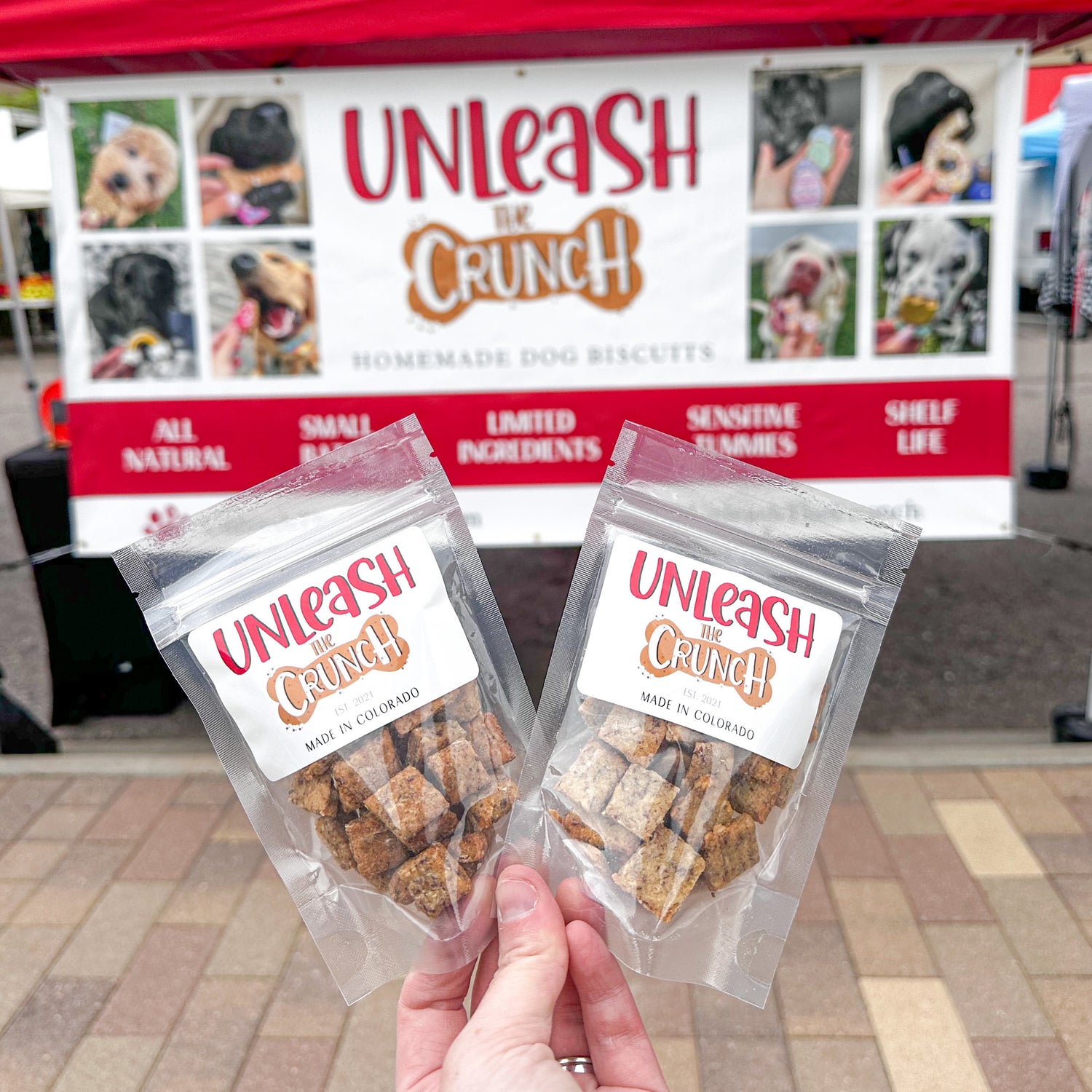 SNACK PACKS
Guilt-free way to try all four flavors!
Apple Cinnamon, Peanut Butter, OG Crunch, and Sweet Potato Parsley
Shop Here
Sign Up Today - SHIPPING DEALS!
Regular price

From $14.50

Regular price

Sale price

From $14.50

Unit price

per

Regular price

From $14.50

Regular price

Sale price

From $14.50

Unit price

per
It's the simple things...
LIMITED & HEALTHY INGREDIENTS

Feel confident giving your pup a treat where you can see the ingredients

MADE-TO-ORDER

Each biscuit is hand pressed and packaged with love

SMALL BUSINESS MINDSET

Hi there, I'm Morgan and this is my pup, Aspen. We live in Aurora, Colorado just outside of Denver. Check out my story for more.
WE ALSO HAVE TOYS, BANDANAS, & LICK MATS!
View all
Regular price

From $22.00

Regular price

Sale price

From $22.00

Unit price

per

Regular price

Sale price

$13.00

Unit price

per